KEYNOTE SPEAKER
Monday, August 6, 2018
Daemen College

Andrew Franz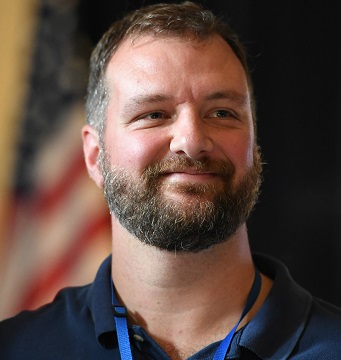 Andrew Franz of Buffalo's Hamlin Park Claude and Ouida Clapp Academy, was recognized in 2017 by the New York State Board of Regents as one of two recipients of the prestigious Milken Award in New York. This award is known to educators as the "Oscars of Teaching".
For 30 years, the Milken Educator Awards, an initiative of the Milken Family Foundation, have rewarded and inspired excellence in the world of education by honoring top educators around the country with $25,000 unrestricted awards. The Milken Educator Awards targets early-to-mid career education professionals for their already impressive achievements and, more significantly, for the promise of what they will accomplish in the future.
Franz was selected for this honor for his entire body of work, but he is most recognized nationally for his work with the Student Spaceflight Experiments Project, offered locally through the WNY STEM Hub. As the lead educator on this project, Franz fired up his 7th and 8th graders about growing potatoes in space, and enlisted biologists at the University of Buffalo and Cornell to serve as outside advisers; he also raised funds to get the students to a STEM Conference in Washington, D.C., and to Cape Canaveral in Florida to observe the Falcon 9 rocket launch that put their tubers into orbit on the International Space Station. Franz gave a presentation about the SpudLaunchers project to the 5,000 people who attended the Falcon 9 launch.
The experiment, which continued at the University of Buffalo even after the students moved on to high school, earned these SpudLaunchers widespread recognition and cemented Franz's reputation as an innovative educator dedicated to increasing interest in STEM education in his high-needs, largely minority school.
Franz, who regularly attends and presents at WNY STEM Hub meetings, teaches in a special education 6:1:1 setting and covers all core subject areas in his classroom: students dissect live hydra, observe animals, care for the class pets (a beta fish and an African walking frog), produce documentaries about animals, learn about imperialism and westward expansion through online gaming, read graphic novels to supplement classic texts, play Minecraft to understand scale factor, and illustrate math concepts with creative drawings.
Franz pushes his students to improve their performance and goes to great lengths to get them out of the classroom. He leads an annual fishing excursion on Lake Erie, as well as a visit to the Tifft Nature Preserve, where students encounter water fowl, deer and insects while learning about the history of Buffalo's waterfront. He has supervised field trips to Delaware Park and the Penn Dixie Fossil Dig, Sky High Adventures Ropes Course, Buffalo Zoo and Buffalo History Museum. Under Franz, students have learned about harvesting mushrooms and aquatic life in Cazenovia Park, attended the Western New York Science Fair and Tech Savvy, toured the University of Buffalo, and participated in the Minecraft Build Challenge at the Microsoft Store.
Franz serves on Hamlin Park's school leadership team and is currently organizing school recycling initiatives as the Sustainability Coordinator. He is on the Positive Behavior Intervention Support (PBIS) team, math team and extracurricular committee. He has facilitated weekly meetings for the school's seventh- and eighth-graders, led the expansion of the science lab, and works with parents and students during Saturday School.
Franz earned a bachelor's in English education in 2006 and a master's in secondary special education in 2010 from Buffalo State College