Sign up to receive Professional Development offers via email from the educational collaborative.
EdCo Partner Schools: You are a partner if you work at one of these fine high schools. Sign up now to receive free and reduced cost professional development opportunities via email.
Bishop Timon
Buffalo Academy of the Sacred Heart
Buffalo Seminary
Canisius High School
Cardinal O'Hara
Mount Mercy Academy
Mount Saint Mary Academy
Nardin Academy
Nichols School
Park School
St. Francis High School
St. Joseph's Collegiate Institute
St. Mary's High School
---
Not a partner? EdCo programs are open to all private, public, charter, college teachers and students.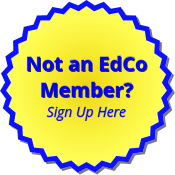 Sign up here to receive our monthly newsletter with local professional development opportunities.