Equity as Excellence Summer InSTITUTE
August 13-15, 2019
Location: Banchetti by Rizzo's (550 N. French Road, Amherst, NY 14228)
Open to EdCo DEI Partner Schools and Buffalo Prep
Click HERE to Register for Equity As Excellence.
ABOUT THIS WORKSHOP
Equity as Excellence is a unique opportunity for educators to receive concrete tools, research-based strategies, and guided practice to support diversity and equity work in their schools. Our method is rooted in the strong belief that equitable and inclusive teaching is simply good teaching, and all educators have the capacity to be equity leaders in their schools. We invite you to share your knowledge and engage in meaningful practice and reflection while learning from the top researchers in the fields of racial literacy and gender diversity.
We will focus on three areas for study and reflection:
Foundations of Diversity Pedagogy: multicultural education and the field's development over time
Curricular Scope and Sequence: examples of inclusive classroom lessons and teaching strategies
Leadership Best Practices: skills for administrators in leading a diverse community
Beginning with a thorough exploration of current research methods that support an inclusive teaching/learning environment, each day will include instruction on curriculum design along with leadership strategies that promote equity and sustain excellence. You will have time to engage with role-specific cohort groups so as to apply our work to your particular sphere of influence. We will also break out into racial affinity groups (people of color, multiracial, and white) to further our learning and skill development.
The Program Director is Elizabeth Denevi, Associate Director of East Ed, and Co-Founder of Teaching While White. Guest presenters and organizations include: Dr. Howard Stevenson, Milton Reynolds from Facing History & Ourselves, Randolph Carter from East Ed, Joel Baum from Gender Spectrum, and Malika Carter from Live Oak School.
ABOUT THE FACILITATOR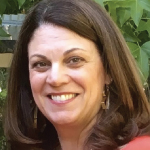 Elizabeth Denevi is the Associate Director Eastern Educational Resource Collaborative, a non-profit agency that works with schools nationally to increase equity, promote diversity pedagogy, and implement strategic processes for growth and development. Previously, she served as Director of Studies & Professional Development at Latin School of Chicago. In this position, Elizabeth was responsible for the stewardship and integration of curriculum from pre-kindergarten through grade 12, as well as for the oversight and coordination of professional development and evaluation for all faculty.