EdCo Equity and Inclusion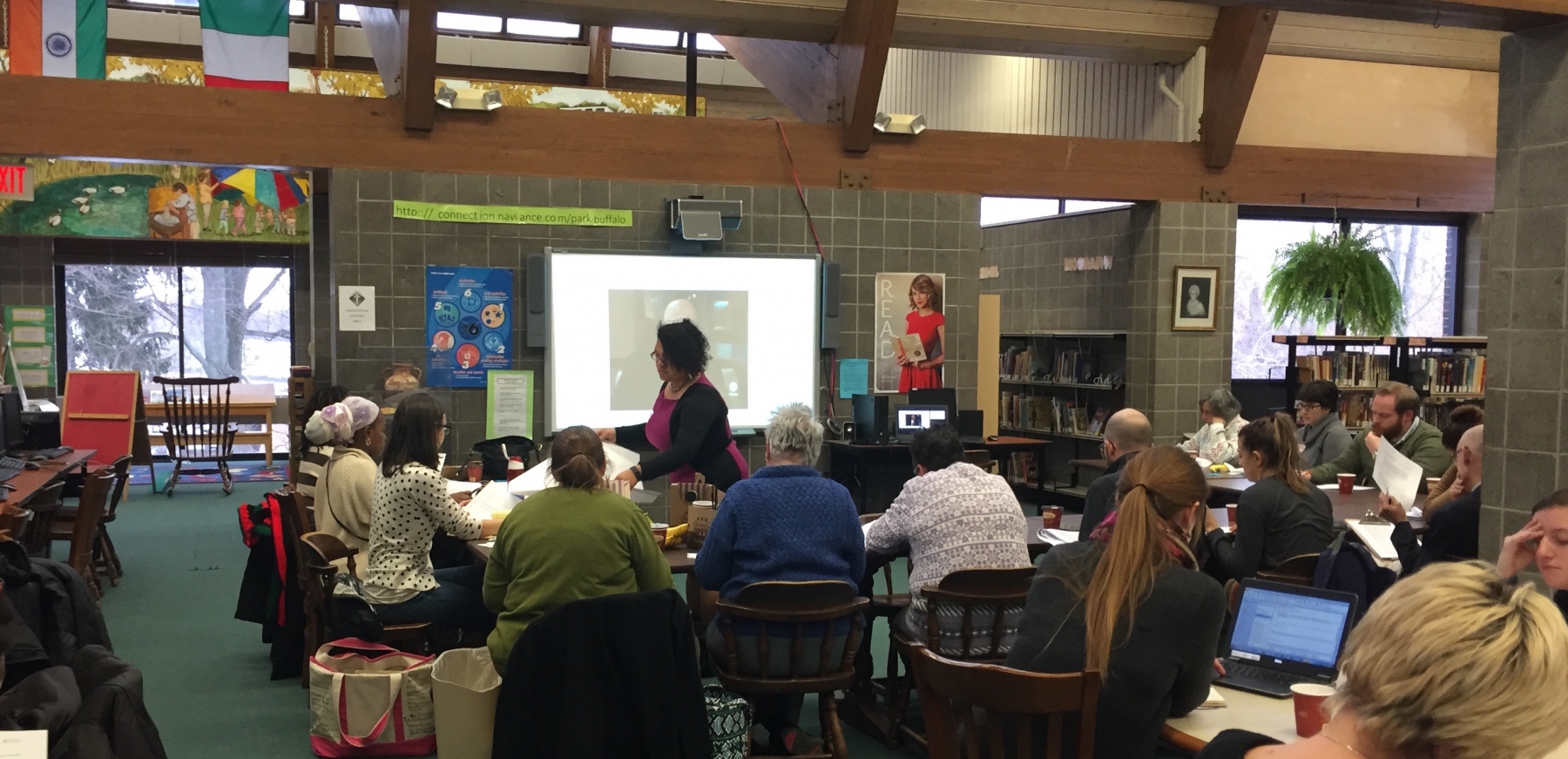 Equity and Inclusion Program Overview
The EdCo Multicultural Resource Center was developed in 2016 from funding provided by the Cullen Foundation. The purpose of the center is to provide additional support for schools that belong to the Education Collaborative of Western New York consortium that focuses on topics of diversity, equity, and inclusion. Dr. Monica L. Ridgeway, the Equity and Inclusion Coordinator, will provide support in the form of workshops, critical coffee conversations, professional development sessions, group/ one-one meetings and more. In addition, Monica is a science education doctoral graduate from the Department of Learning and Instruction at the State University of New York at Buffalo. Monica's work as a past teacher, director, researcher and professional development coordinator is dedicated to creating more equitable learning experiences and opportunities for students of color.
---
EdCo Equity and Inclusion Workshops (2016-17 School Year)
The EdCo Equity and Inclusion Series offers teachers a variety of workshops based on their needs throughout the 2015-16 school year. Workshops will take place at EdCo "host" schools during the after school hours (3-5PM) depending on the host schools dismissal time).
Please view the schedule and sign up on the Professional Development page
---
EdCo Critical Coffee Conversation (2016-17 School Year)
The purpose of the Coffee Conversations is to engage in open discussions that surround literary works that focus on identity, diversity, equity, inclusion, and being a critically reflective educator. These interactive sessions will provide educators with the literature and resources to impact their classrooms, schools, and society as a whole.
Participants will read one article or book chapter prior to our coffee conversation. We will keep in mind time is very precious, we will select pieces or excepts that allow for an in-depth conversation. We need those involved to come with an open mind be ready to discuss and collaborate.
Critical Coffee Conversation Flyer

Articles used 2015-16 School year
Copenhaver-Johnson, Jeane. "Talking to children about race: The importance of inviting difficult conversations." Childhood Education 83.1 (2006): 12-22.
Kubota, Ryuko. ""We Must Look at Both Sides"—But a Denial of Genocide Too?: Difficult Moments on Controversial Issues in the Classroom." Critical Inquiry in Language Studies 11.4 (2014): 225-251.
Ladson‐Billings, Gloria. "'Who you callin'nappy‐headed?'A critical race theory look at the construction of Black women." Race Ethnicity and Education 12.1 (2009): 87-99.
Ridgeway, Monica L., and Randy K. Yerrick. "Who's it for?: Exploring STEM Partnerships and Identity for Marginalized Urban Youth." (In-Press) Cultural Studies in Science Education.
Wyss, Shannon E. "'This was my hell': the violence experienced by gender non‐conforming youth in US high schools." International Journal of Qualitative Studies in Education 17.5 (2004): 709-730.
---
Teaching Tolerance
Serves as a clearinghouse of information about anti-bias programs and activities being implemented in schools across the country.


Link http://www.tolerance.org/